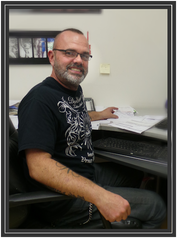 Jean-Marc Carre
Head of the Commercial and Print Department / Co-Owner
Jean- Marc is originally from France and was born in Bourges. In 1985, he worked as a model in Paris for "Paris Planning Agency" which started his career in the Entertainment Industry.
Soon after he became an agent in Paris for "Dune Agency".
In October of 1987, Jean-Marc was presented with an opportunity to move to Los Angeles. He had the pleasure of working as an "Overseas" Agent which required him to place "American Models with European Agencies. His keen eye for talent and connections made with Los Angeles Industry
Professionals soon lead him to open his own agency. C' La Vie Model & Talent Agency was opened in the Spring of 1989 with Jean-Marc as the CEO. C' La Vie Model & Talent Agency later became a SAG franchised Agency in 1991.
As the years followed, Jean-Marc participated as an annual judge at the IMTA (International Model & Talent Association) and later became a member of the A.T.A. in 1995 while being an agent at C' La Vie. In 1997 he created a free Commercial Workshop called I.N.T.L. (It's Never Too Late) for Senior Citizen. This program was such a success that if was featured on Fox News, CNN along with many other news programs. In fact this program is active today and is currently taking place at the Plummer Recreation Center in West Hollywood. In 1998 & 1999 Jean-Marc was Administrative Director and Treasurer for "Kidz Eyes" (501-C Non Profit Organization) created to give Art
Scholarship and support under privileged kids in the Los Angeles area.
It was in May of 2000 when Jean-Marc met Laura Walsh. Together they opened "Central Artists" Talent Agency which originally started as a talent management company. Later that year Central Artists was Licensed & Bonded by the State of California as it is today. Joined and was a Member of the Talent Managers Association from 2001 - 2003. Then in the Spring of 2014, Central Artists became a AFTRA / ATA Franchised Agency.
Currently Jean-Marc is the acting agent for Central Artists's Commercial / Print - Adult Division.
​
---